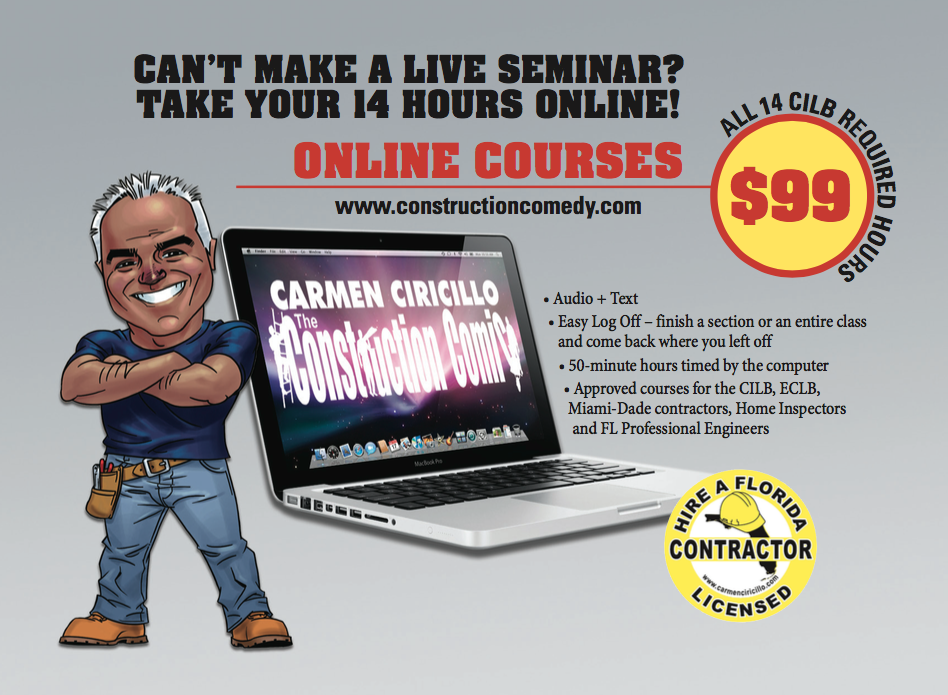 Audio + Text

Meets Florida's 14 hours CILB CE Requirement

Educational and Fun Class Format

Enjoy Carmen's Velvety Voice
VIEW ONLINE COURSES | SIGN UP NOW
Audio + Text: Our online courses offer short, easy-to-read and listen to sections. You can start and stop at your own pace! You can print your certificate of completion once you're done!
Educational & Fun: Carmen makes it fun with humorous audio while educating you with the required coursework.
A Sample of Carmen's Velvety Voice
Description of Online Courses
1. Advanced FBC - The Florida Building Commission
The Advanced FBC discusses the Florida statutes with respect to the duties and responsibilities that are given to the Florida Building Commission. Among them are maintaining the Florida Building Code, interpretations, technical studies, declaratory statements, nonbinding interpretations and the prototype building program. This course satisfies the Advanced Building Code 1 - hour requirement for CILB Contractors/ECLB Electrical Contractors and one hour of general for Home Inspectors.
2. Construction Economics
This course addresses important construction economic issues to the contractor. The changing costs of doing business, various cycles and trends and their effects on the Florida contractor will be examined. Includes the Business Practice requirement for CILB Contractors.